This Self-Paced Course will walk you through all the steps to BIRTH LIKE A BOSS!
With on-demand access, you will learn labor and delivery positions, how to manage contractions, and how to position, breath and push out a baby.
Receive step-by-step guidance on labor and delivery exercises including where to start and how to progress. You're provided with strategies to increase pelvic floor length to prevent perineal tears and make it easier to push! You are also provided with strategies on how to have optimal mobility and flexibility for labor to make vaginal deliveries possible!
You will become an expert on the Stages of Labor, Timing Contractions, and pain coping strategies! We will review different labor and delivery positions to reduce injuries such as perineal tears and tailbone fractures or dislocations. You will learn ways to modify labor positions to maximally open up pelvis for moms with and without epidural.
You will learn how to pair your breath and pelvic floor muscles to have optimal pushing! Plus you will be given the opportunity to train your birth partner to give you the best support and feedback to help guide labor and delivery!
*BONUS* coaching session with Dr. Megan (30 minute phone or video consult).
*BONUS* receive information on immediate postpartum recovery!
Let's be REAL! Thoughts of delivering a baby includes a few pushes matched with a sweet yell from you little one followed by sweet snuggles.
Reality is, your birth plan may not go as planned. And that is totally okay! The best thing is to be prepared and understand what all to expect. It is also crucial to learn how to reroute when changes are in place and to have a birth partner to help guide the best physical decisions to reduce injury. I get it! Having a baby can cause a ton of anxiety! Most moms in the thick of childbirth would tell you that they went through the same thing and than no birth plan actually works! While that may be true, it is still important to be prepared for what life throws at you PHYSICALLY!
So, lets stretch out those pelvic floor muscles to prevent tearing, increase pelvic and hip mobility for optimal labor positions, and educate yourself on proper breathing strategies to increase abdominal pressure so you don't have to work as hard while pushing!
People train for marathons right? They don't just decide one day that they are going to run over 26 miles. It takes strength, endurance and lots of training to get your body and mind right for running a marathon. It takes just as much training IF NOT MORE to prep for childbirth!
I have worked with many moms on pelvic health issues. My goal is to guide you to become PROACTIVE rather than REACTIVE. I have worked with many moms after childbirth with perineal tears, cesarean scars, weakened pelvic floor muscles and "terrible" birth stories. Here is where we can flatten the curve to prevent those issues so you can have less pain and injury after labor and delivery! That way, when you get home from the hospital, you do not have to live in pain and be told to just "deal with it" like some of my postpartum patients… including my sister! It's more than just scar tissue and a small vaginal tear. It is what happens when you get home. When you are scared to pee, poop, and even lift your baby!
Are you ready to work on PREPARING your body so you can stop feeling overwhelmed and stressed with so much unknown! It is important to invest in yourself and physically feel like the empowered mom you are about to become!!!
If you are ready to become your own advocate for your birth plan, this program is for you, Mama!
Course Curriculum
Available in days

days after you enroll

Birthing like a BOSS
Available in days

days after you enroll

Postpartum
Available in days

days after you enroll

BONUS**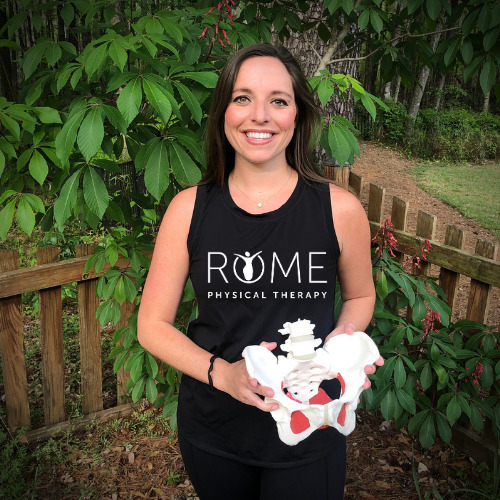 I am a Pelvic Floor and Obstetrics Physical Therapist in Charleston, South Carolina.
I began the journey of expanding my knowledge beyond orthopedic PT when my mom started having unexplained pelvic pain. Turns out, it was simply scar tissue from two cesarean deliveries! Can you believe 30+ years ago, she begins feeling extreme discomfort with little answers and little treatment methods (basically just live with it). As my knowledge expanded further into the pelvic floor world, I learned my struggles within my very own pelvic floor.
From there, I have continued to explore the umbrella of Pelvic Health and found inspiration in helping moms and moms to be! I want to prevent women from having unexplained pain 30 years down the road. I am advocating to change this narrative, because moms, including my own, deserve better!
This course was created to empower moms and moms to be to increase awareness and advocate and learn more about their body!
My classes are designed to take you through preparing your body for birth, training your birth partner to be your constant support and advocate as well as everything you need to know postpartum from taking your first poop, pain free sex, and healing your core and pelvic floor!